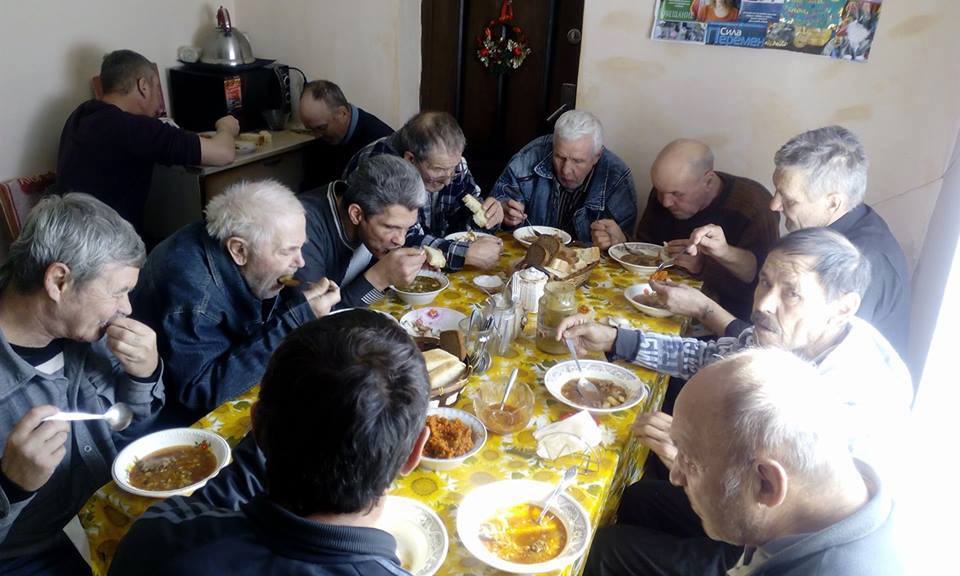 House Of Mercy Armavir
---
I first put this page up when we were caring for Edgar, an 83-year-old man we took in. His story touched many people, and some friends helped us with donations for his needs. You can see the story further below.
Helping people in need is an expression of love and worship to God. Edgar is no longer with us, yet I like having this page as an opportunity for people to participate in something that's dear to God's heart. I decided to share the needs of my friends in Armavir, Russia, who are doing a tremendous work to help other people like Edgar.
My friends Tanya and Volodya Magaras are running a House of Mercy in Armavir, Russia. They are feeding people in the park and taking in men who have nowhere to go. The community works together, raising animals and tending gardens. What they're doing is so beautiful that it makes me want to cry. I love Russia and Russian people dearly, and seeing the people at the House of Mercy gives me so much joy!
Their newest inhabitant (as of the time of this writing) is Vasya. The House of Mercy got a call from a Cafe near the highway. Vasya came to them asking for help. He was hospitalized with a serious head injury and operated on. He has some memory loss. Since he didn't have his documents, they soon took him out of the hospital and left him by the road. He now lives at the House of Mercy. The house is stuffed full of people, and there are still so many more who need help! They would like to expand and be able to care for more people.
You can find the House of Mercy here on Facebook. Although the posts are in Russian, you can see some pictures and videos. You can also donate directly to the House of Mercy through Paypal.
Caring For Edgar (How This Page Started)
---
Yeah, I'm the younger guy in the picture above! In Brazil, "my son" and "my daughter" are affectionate terms by which people sometimes call even their own parents. My wife tells me that I have two babies now, since we've started taking care of Edgar.
I've had a strong desire to take care of street children for many years, and prophetic words have confirmed it. I've also received prophetic words about bringing food to hungry people in Brazil. I don't know how some of that will happen, but I feel like taking care of Edgar is training for me in some way. My father-in-law and I are now caring for Edgar 7 days a week, changing his diaper, moving him, and bathing him twice a day. I've been a mostly self-supported missionary for many years now, and my wife and I both work to meet our family's needs.
We were using Edgar's money from the government (About $260 USD equivalent per month) to pay for most of his needs, and we were paying for his only his food and water from our own pockets. However, his expenses increased when he lost mobility. We also had to buy a cheap toilet-seat wheelchair to bathe him and move him from one place to another. Last week when I went to buy diapers for him, his money had run out. My mother-in-law gave me some of her money to pay for the diapers. You can read more of Edgar's story below.
I've decided to invite the body of Christ to share in this ministry. We're taking care of Edgar by feeding him, bathing him and changing his diapers. We're extending the opportunity to you to contribute by helping us to buy his food, diapers, and other care items which his small income doesn't completely cover. We also need a cheap regular wheelchair (slightly over $100) so we can take him to get his money from the government. A few people have already donated to us (unsolicited), and it has encouraged us tremendously.
Thank you to all who helped us with Edgar's needs. It was a tremendous encouragement. Right now, our friends in Russia are in need of help more than we are. They have a "House of Mercy" and are taking in homeless people in Armavir, Russia. You can donate directly to them through this link.
Edgar's Story
---
Edgar used to live about a block away from us, and we sometimes stopped in to check on him. He doesn't have any children or close family members to help him. He has been friends with my in-laws for a long time.
Edgar broke down crying in front of our house last year, and we found out he was being attacked by bandits at night. They cut his arms with a big knife and were trying to get money from him. I wrote about this situation in a few blog posts, including I Will Sing Your Praise Before The "Gods", and Divine Protection Part 3.
The police didn't help us, and we ended up moving him into a small house on our property. This house had been abandoned, filled with rat poop and trash, when I moved to Brazil. I had cleaned it out and partially remodeled it, replacing the electric wiring and repairing the walls. We gave this house to Edgar, and he used his money to finish the repairs. The bandits got mad and one of them threatened to kidnap our little girl, but things settled down. I ended up praying for him and blessing him! (That story's in Jesus In Me Can Love People When I Can't.)
Edgar got worms in his feet last October when I was in the United States, so my wife had to pick them out. We hired a lady to come for about an hour a day to take care of his feet, and paid her out of the money Edgar gets from the government. Edgar receives the equivalent of about $260 a month from the government. (As of the Jan. 30, 2017 exchange rate.) We're continuing to pay her to come and help us care for Edgar's needs, as well as paying someone to clean his house.
On January 4th, my father in law came running up to my house and yelling for me to help him. Edgar was naked on the floor in his house, moaning unintelligibly. Poop was smeared all over the house. I forced a window open so I could reach in and unlock the door, and we picked Edgar up and gave him some water. He could no longer walk or lift a cup to his mouth to drink water.
The next day we finally got an ambulance to come, only because we had a special connection with a police officer and asked him to help us. However, the ambulance crew refused to take him to the hospital. People tell us the hospitals in Rio de Janeiro aren't accepting anybody over 70 years old. Edgar is 83. We had taken Edgar to the emergency room once before, and they sent him back in an ambulance. They didn't send an ambulance to get him, but used an ambulance to get him out of the hospital! That's the state of the public health system in Brazil.
Edgar's condition has improved so that he can support a lot of his own weight when I stand him up, drink water by himself, and help to clean himself. It was really tough lifting him by myself when he was like a big rag doll. I'm glad he's better! However, we still need to bathe him, change his diaper, and help him to eat. He's currently unable to get the food up to his mouth with a spoon by himself.
He was falling out of his bed and getting hurt, so we put his mattress on the floor. His bed was missing one foot and the corner was resting on bricks. I was going to buy some wood to re-build his bed and add supports to the sides so he wouldn't fall out. But thank God, a friend from the Baptist church obtained an old hospital bed for him. It weighs a ton, but we can crank it to lift the head of the feet, and it prevents him from falling.